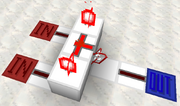 AND gates are one of the most common type of logic gate in minecraft. They are only in their active state when both inputs are active. AND gates can have any amount of inputs, while having only one output. Usual AND gate will always have 2 ticks delay. The design shown on the right is one of the most common builds. But both/all inputs have to be active.
Since Minecraft only supports 2 fundamental logic gates, to make an AND gate, it needs to make it into a combination of OR and NOT gates. De Morgan's Law is designed to convert from OR to AND and backwards. In its basic form:
NOT (A AND B) = NOT A OR NOT B
Bringing over an inversion gets us the fundamental AND gate formula:
A AND B = NOT (NOT A OR NOT B)
Ad blocker interference detected!
Wikia is a free-to-use site that makes money from advertising. We have a modified experience for viewers using ad blockers

Wikia is not accessible if you've made further modifications. Remove the custom ad blocker rule(s) and the page will load as expected.