Ad blocker interference detected!
Wikia is a free-to-use site that makes money from advertising. We have a modified experience for viewers using ad blockers

Wikia is not accessible if you've made further modifications. Remove the custom ad blocker rule(s) and the page will load as expected.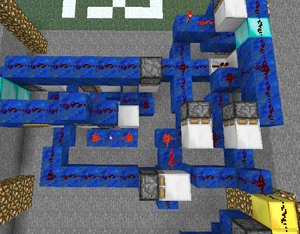 A carry-select adder takes the two input bits A and B and creates a true and partial sum from them. These go into a multiplexer which choses the correct output based on the actual carry in. Carry-select adders are made by linking 2 adders together, one being fed a constant 0-carry, the other a constant 1-carry. Most Minecraftian carry-select adders are not true carry-select adders, but simulate the operation of a carry-select in Minecraft.
Truth tables
Edit
(carry-select simulating)
Pre-multiplexer:
Edit
Inputs
Outputs
A
B
S
C
Spartial
Cpartial
0
0
0
0
1
0
1
0
1
0
0
1
0
1
1
0
0
1
1
1
0
1
1
0
Multiplexer:
Edit
Inputs
Outputs
S
C
Spartial
Cpartial
Cin
S
C
0
0
1
0
0
0
0
1
0
0
1
0
1
0
0
1
1
0
0
0
1
0
0
1
0
1
1
0
1
0
0
1
1
0
1
0
1
1
0
1
1
1
External Links
Edit